Advantages

FOR ALL PEOPLE INVOLVED

A WIN-WIN-SOLUTION

Planners can guarantee that the whole air duct system complies with the air tightness requirements of the respective standards. Meanwhile an air tightness test according to EN 12599 will be much easier.
Air Duct Manufacturers which meet the air tightness requirements of EN 1507 or EN 12237 through their in-house quality assurance or the use of high quality products in the manufacturing don't have to deal with defects caused by the assembly.
HVAC contractors can easily fulfill and prove the required air tightness class in the course of the installation. Complex and expensive rework is not necessary.
Operators and Use benefit from an optimal and energy-efficient system operation.
Facility Managers and Energy Efficiency Consultants get an easy and effective method to optimise leaking existing air ducts and to reduce energy costs.
ADVANTAGE 1 - SPEED
Our MEZ-AEROSEAL process enables an extremely fast project execution, due to the fact that no long-term construction works are necessary. The affected building or section within the building (for example in existing hotels) can be used again immediately.

Per day, you can seal 5 rectangular duct lines or up to 600 m line length or approx. 2.700 m2 of duct surface. To apply MEZ-AEROSEAL, 1-2 service technicians are sufficient.
When sealing during the installation of new air duct systems, the section by section application and recording guarantees a fulfillment of the required air tightness class for the whole system and eliminates delays of the project progression due to rectifications.


ADVANTAGE 2 - INCREASE OF COMFORT AND HYGIENE
• Heat loss or the loss of cooling caused by leaky ductwork will be minimised
• An equal distribution of pretreated air in the whole building will be guaranteed
• No more noise generation caused by leakages
• Odour due to leaky ductwork is not a problem anymore
• The general indoor air hygiene will be improved

ADVANTAGE 3 - DOCUMENTATION
Before and after sealing with MEZ-AEROSEAL the total leakage of the affected system is determined and noted in a certificate, which documents the sealing process.
The average reduction of the leakage is more than 90%.

ADVANTAGE 4 -

ENERGY EFFICIENCY
The average leakage of air duct systems in Europe is between 15 and 30%. In case of unknown air tightness class, the leakage according to EN 16798 Part 3 is 15%, even at air tightness class A it's still 6% of the air flow.
As a result of that the potential of energy savings is up to 50% of the specific fan power. In buildings with a high air exchange rate, like hospitals, pharmaceutical industy, hotels or first class offices, the payback period of the sealing is quite short, partially within one year.
Example: Illustration of theoretical relation between air leakage rate and fan power requirements.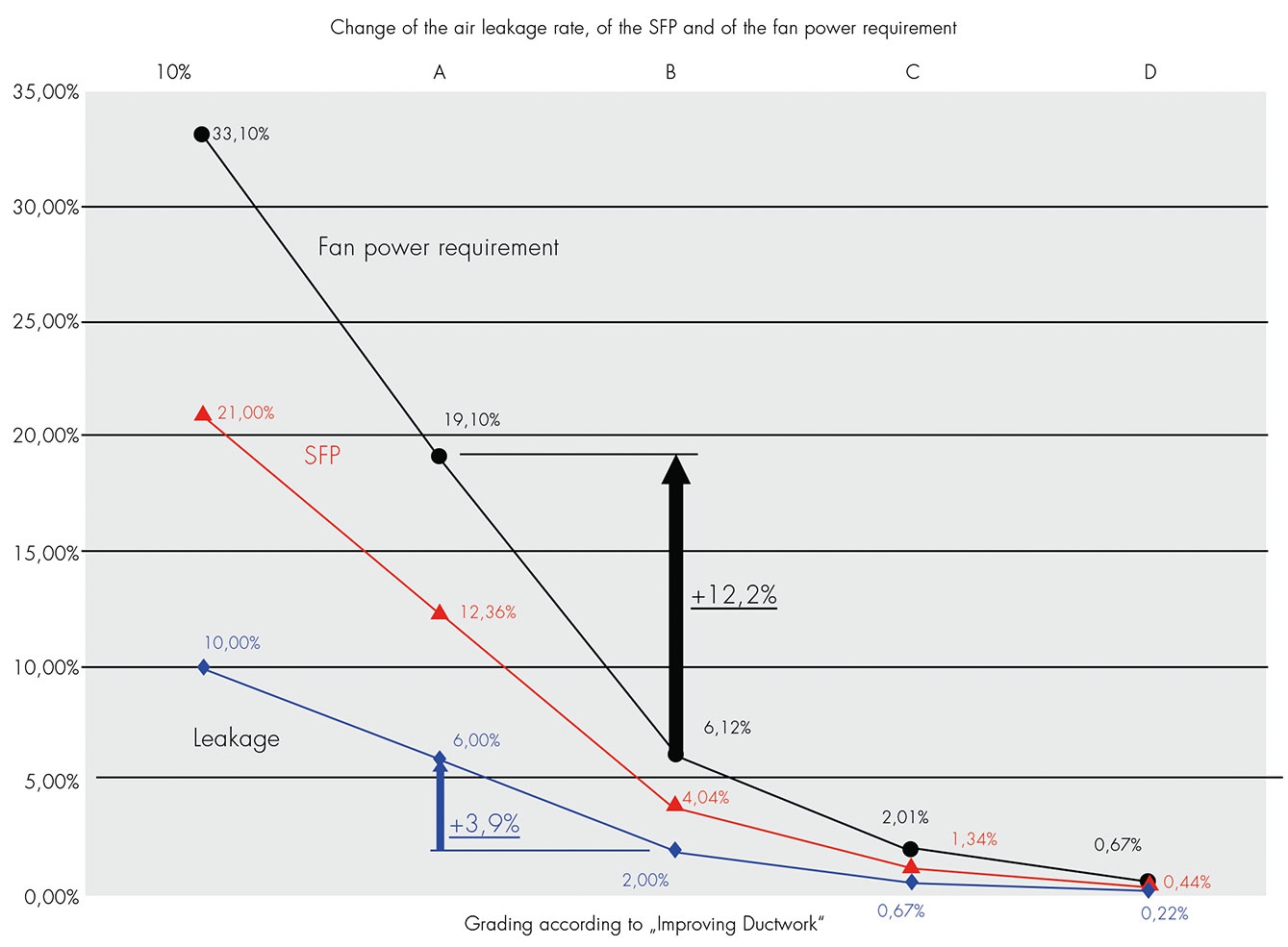 Fan power requirement increases by 3 times compared to the air leakage rate. The SFP (specific fan power) can be reduced by the reduction of the air leakage rate. This allows a compliance with the guidelines of EnEV 2014.