win-klimaX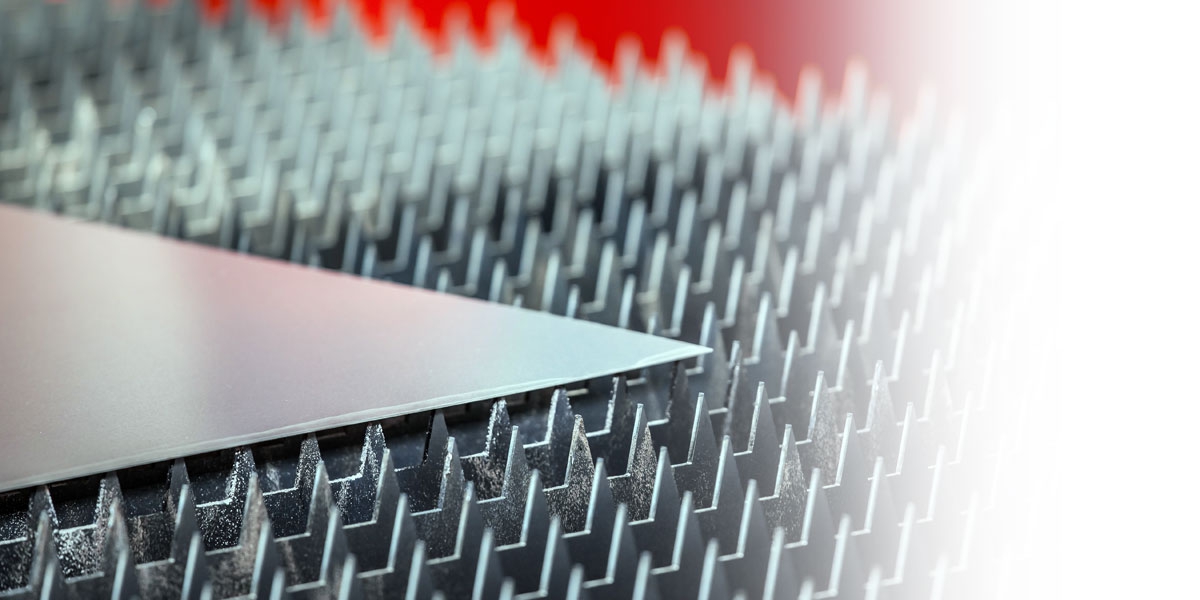 win-klimaX is the software for the productive production of air duct components of all kinds. Concentrate on the essential, because order and overview are self-evident in win-klimaX. By using these software solutions the daily work is faster, easier and above all error-free.
---
Order structure
In win-klimaX all customers, projects and orders are arranged in a clear tree structure.

Circular. Rectangular. All available.
The integrated component library allows you to select the appropriate component with just a few clicks. All components according to DIN 18379 and round parts according to DIN 24145 / 24146 / 24147 are available and are dimensioned accordingly.

Component overview
You can see all components for the respective project in a component overview. Information such as connection, surface, standard, etc. is listed in detail.

Cutouts
Cut-outs, e.g. for access doors, can be added in various shapes to many components simply and easily.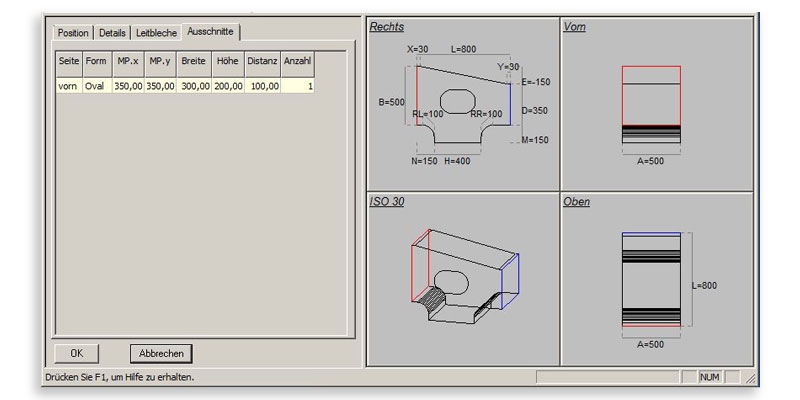 Parts lists and insulation report
Print out the parts lists or save them as PDF files. You always have the choice between a parts list in text form or the graphical parts list. Furthermore, you can also print out your insulation reports or save them as PDF files.
Parts list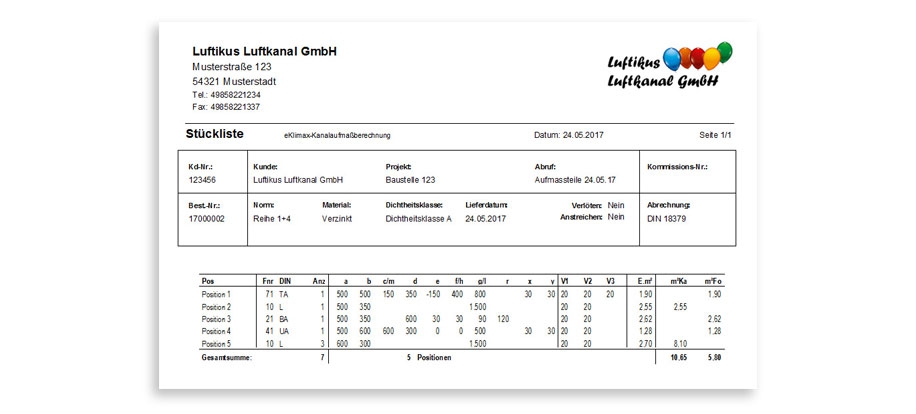 Graphical parts list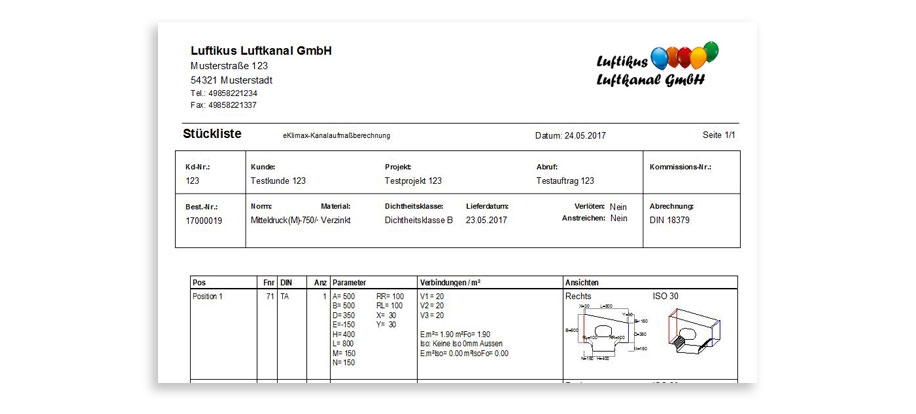 Insulation Report
CAD-Import
The data import enables the import of parts lists, which were created with different CAD systems with e-klimaX interface. It is also possible to process parts lists created with e-klimaX, i-klimaX or m-klimaX. This enables an error-free transfer of components.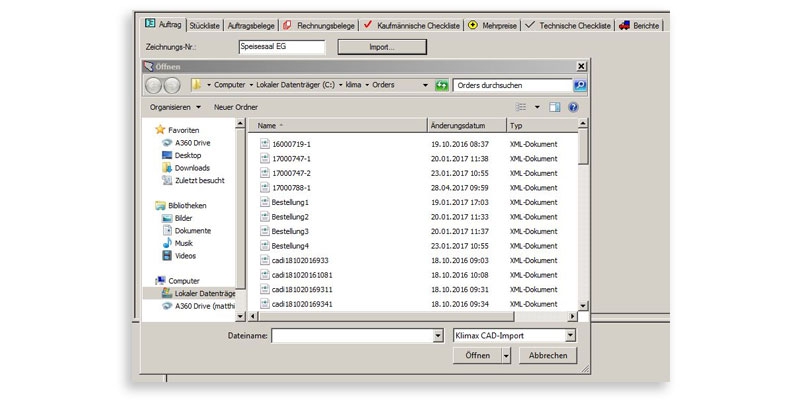 An e-klimaX interface is available for the following CAD systems*, among others:
ACADDuct
ESS KLIMA 2000
Plancal Nova
StabiCAD
AutoCAD MEP, Revit, RoCAD
LiNear
Tacos Rukon
C.A.T.S.
pit-cup
Venturis TriCAD
* Other CAD systems on request
Integration of external DXF contours
Via the DXF import you have the possibility to produce any kind of special contours with win-klimaX. The contours are processed in the same process as all other parts of the order so that they are even nested together. This saves you an extra process chain for special contours.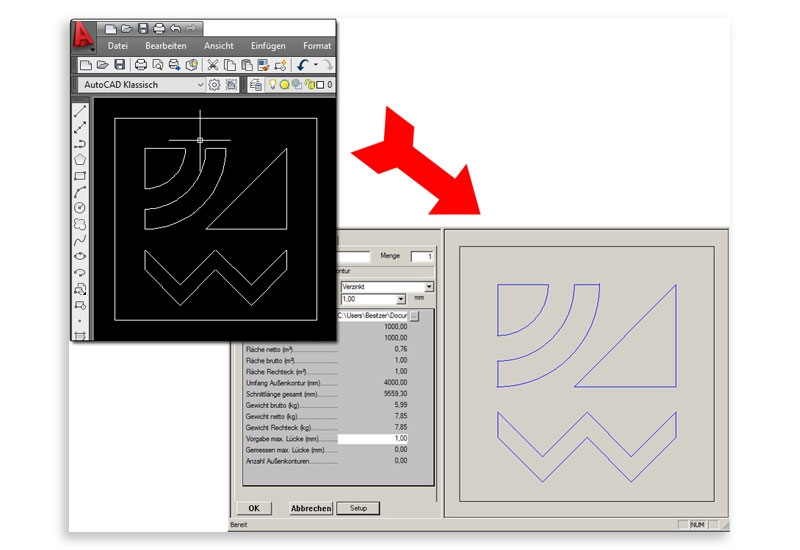 Price calculation and additional charges
The price calculation in win-klimaX takes place automatically on the basis of a basic price table. Basic prices can be set for all component groups, material types, standards and edge lengths. Also the freight costs are calculated up to freely definable freight-free limits.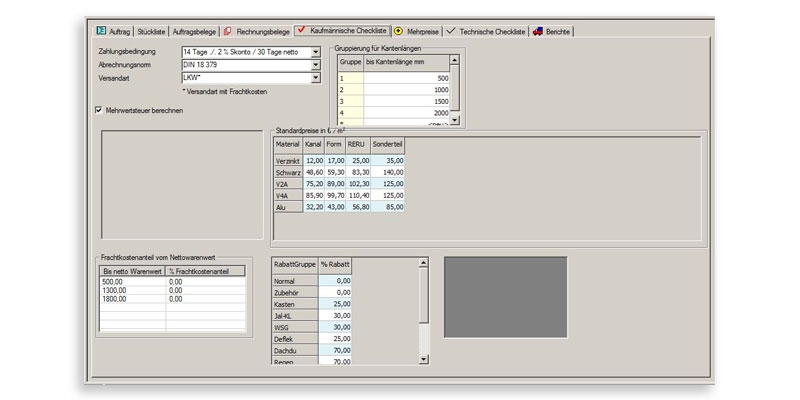 Additional prices can be indicated individually according to various criteria. Here win-klimaX differentiates according to the following criteria:
for joints (according to component weight and/or surface)
for tightness classes
for different standards
for different additional work
for non-standard ducts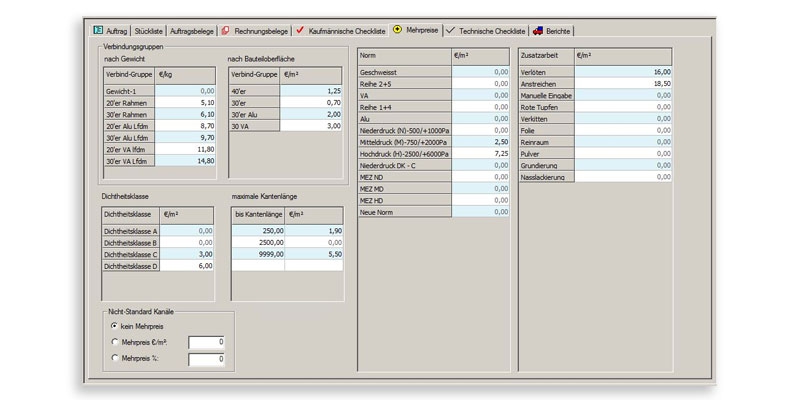 Invoices and accounting
With the optional invoice module you can create invoices for all orders and have an overview of open items, payments, credit notes and dunning runs. During the invoice run, missing prices, e.g. for special parts or additional work, are detected and marked so that you can add them before the invoice is created and, above all, identify them.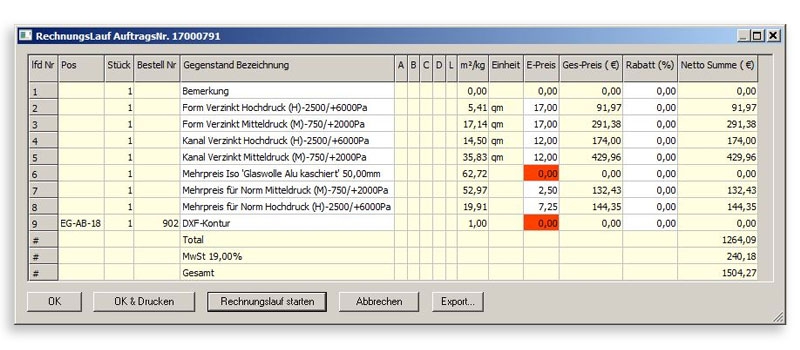 The invoice documents can be filtered at various levels using the tree structure. All documents, documents for a specific customer, documents for a specific project or only for a specific order, followed by temporal filter options per year, quarter, month, etc. or according to a freely definable time period.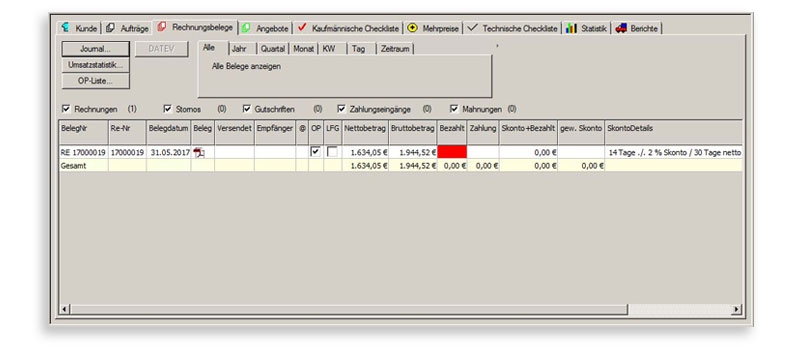 The invoice documents can be conveniently sent directly to your customers by e-mail.
---
Why should you choose win-klimaX?
win-klimaX is a complete industry solution for the production of air ducts. The high flexibility in the area of input and output interfaces enables you to adapt the software optimally to your operating processes.