e-klimaX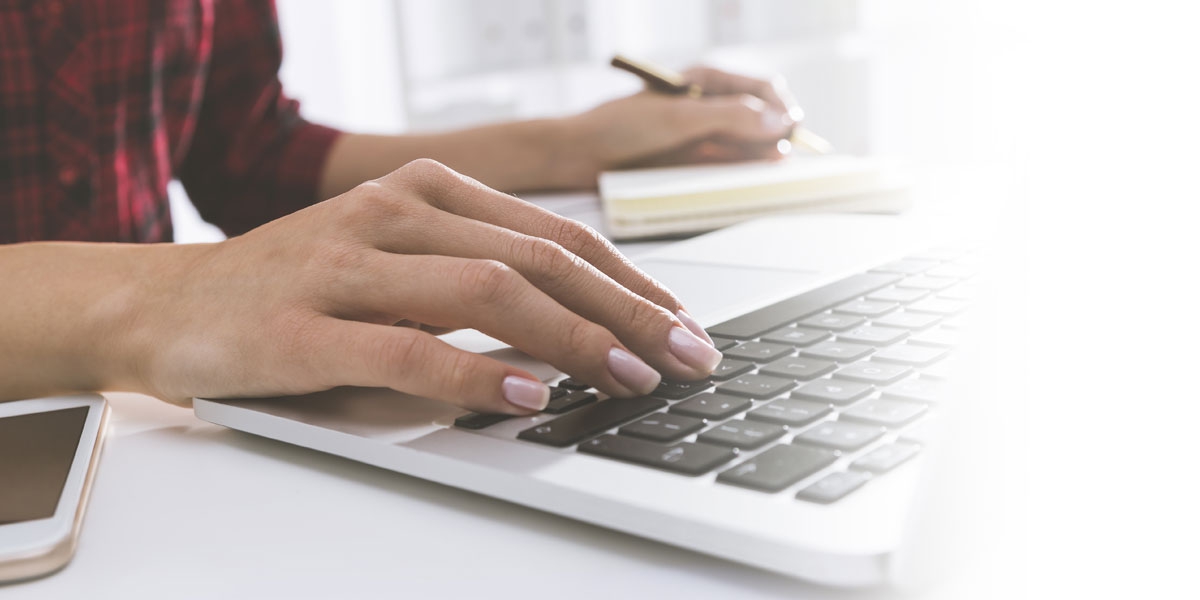 Enter and order your round and square air duct components quickly, easily and without much previous knowledge of the software. No matter whether you have a large or small order. With just a few clicks the order or inquiry is entered into e-klimaX and can then be sent by e-mail to your desired supplier.
What are the differences between the individual e-klimaX versions?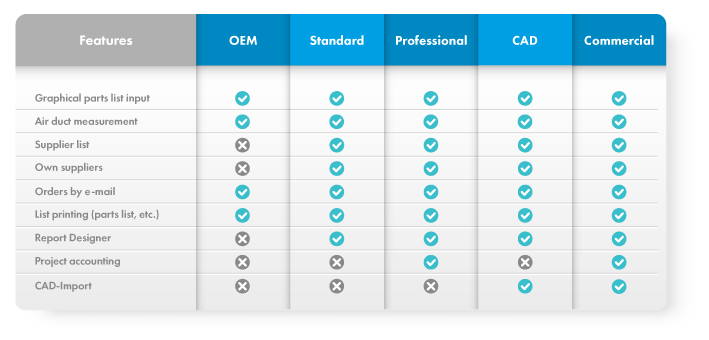 ---
Clear structures
All customers, projects and orders are listed in a clear tree structure. With just a few clicks you can generate an order directly from the order and then send it as an e-klimaX XML file by e-mail to your air duct manufacturer.

Keeping everything in view
With the help of four views, you can check your component input in real time and correct it if necessary. The input always follows the same pattern. On the one hand you will find the input options for the component values, on the other hand the component in rotatable and dimensioned drawings.

Incorrect orders are thus reduced to a minimum and the detection of round and angular air duct components is easier for you than ever before.
Round. Rectangular. All available.
The integrated component library allows you to select the appropriate component with just a few clicks. All components according to DIN 18379 and round parts according to DIN 24145 / 24146 / 24147 are available and are dimensioned accordingly.

Looking ahead
Profit from order-related accessory lists. The program automatically calculates the required amount of conveyor belt, screws, nuts and duct clamps as well as foil for closing the duct ends.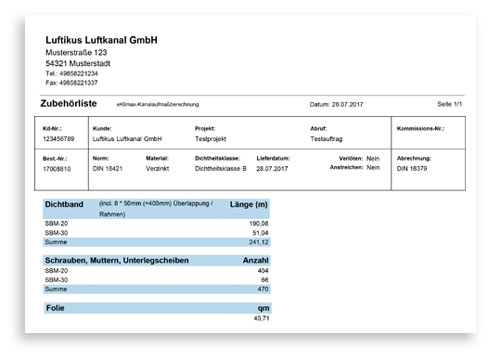 Cut. Copy. Paste.
Copy or move individual or several parts of a bill of material to another bill of material. By using the common Windows functions "Copy", "Cut" and "Paste" you do not have to get used to.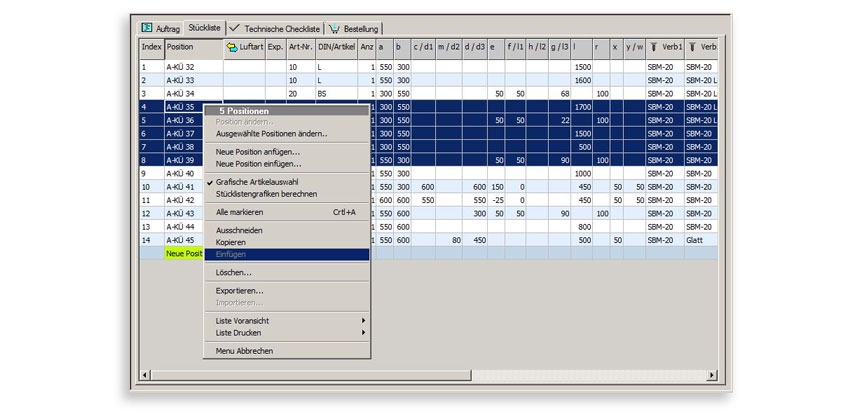 Build relationships
Assign each component technically, commercially and spatially. The technical assignment is the assignment of an AHU and the air type. The commercial assignment connects components to the corresponding air handling unit position. And the spatial allocation allows you to name buildings, areas, floors and rooms.

Parts lists and insulation report
Print out the parts lists or save them as PDF files. You always have the choice between a parts list in text form or the graphical parts list. Furthermore, you can also print out your insulation reports or save them as PDF files.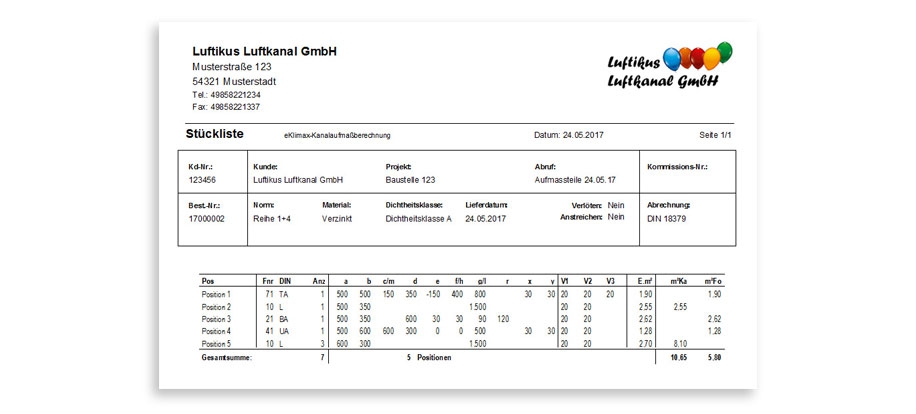 Graphical parts list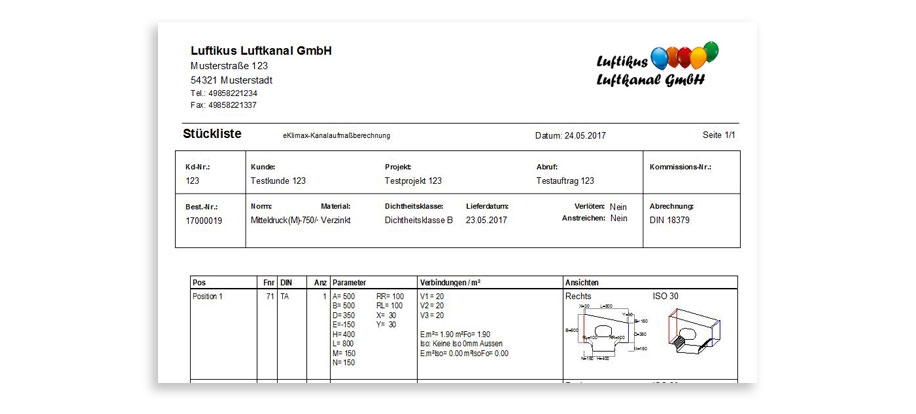 Insulation Report
SQL or Access?
Do you work in large networks, across locations or externally via VPN? In these cases we recommend to connect e-klimaX as SQL database. Benefit from improved access times and increased stability.
The SQL database is offered as an option from program version 5.0.
---
e-klimaX Professional
In addition to the standard functions, in this version you have the possibility to coordinate your projects from a central location and thus always keep the overview - even with the largest projects. Combine different orders within a project into measurement lists to create uncomplicated interim and final invoices.
Organization made easy
The various grouping and sorting options make it easier for you to keep an overview and to organize yourself perfectly, even in large projects.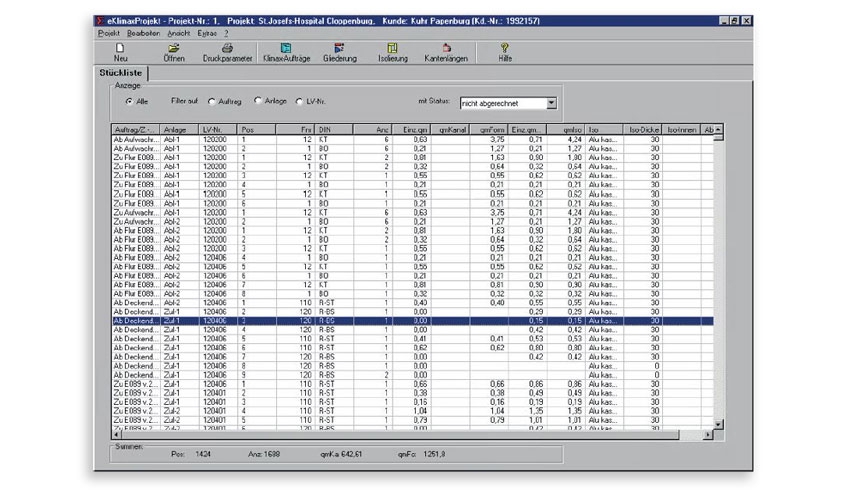 Edge length report
The integrated project tool allows you to quickly and easily create an edge length report that groups all channels according to a freely configurable matrix.
---
e-klimaX CAD
Simplify your processes by importing and exporting existing data from and to a variety of CAD systems*. The transfer of round and square air duct components is carried out via the e-klimaX XML or ASCII interface.





* further systems on request
---
e-klimaX Commercial
e-klimaX Commercial combines the functions of e-klimaX, e-klimaX Professional and e-klimaX CAD.
---
Find the right e-klimaX version for you!
e-klimaX is offered in different versions for different needs.
The following table shows an overview of the functions of the individual versions
e-klimaX OEM

e-klimaX


e-klimaX Professional

e-klimaX CAD

e-klimaX Commercial

Operating system

Windows (7,8,10, 11)

Windows (7,8,10, 11)

Windows (7,8,10, 11)

Windows (7,8,10, 11)

Windows (7,8,10, 11)

Graphical parts list input

■

■

■

■

■

Air duct measurement;

■

■

■

■

■

Supplier list

■

■

■

■

Order by e-mail

■

■

■

■

■

Max. Number of projects

unlimited

unlimited

unlimited

unlimited

unlimited

Max. Number of orders per project

unlimited

unlimited

unlimited

unlimited

unlimited

Max. Number of components per order

unlimited

unlimited

unlimited

unlimited

unlimited

List printing (parts list, graphical parts list, insulation report, etc.)

■

■

■

■

■

Report designer for editing the lists

■

■

■

■

Project accounting

■

■

CAD-Import

■

■

Permanent purchase license

■

■

■

■

■

Special features

• Bundle of at least 5 pieces

• for air duct manufacturers or wholesale and therefore only 1 supplier